Over the last few years, Samsung has done something special in the Android world. It has consistently created an outstanding flagship phone with no big flaws. Most people who buy a Galaxy S20 phone know what to expect. So Samsung's most important assignment with the S20 was to make sure it did not screw up a good thing. There is a Samsung computer or appliance in practically every room in the building. And when it evolves into entertainment, it is one of the pioneers in the market. All this shows how much Samsung trusts, and we demand a lot from their goods. The pretty good news is that they are still promising, and this time they have got it again. Experts say the Samsung S20 phone series is a true game-changer. Samsung Galaxy comes with series:
Samsung Galaxy S20
Samsung Galaxy S20 Plus,
Samsung Galaxy S20 Ultra
Samsung Galaxy has many similarities with other Galaxy S smartphones. On the back, there is the same curved glass, the same metal rail on the sides, and the same almost bezel-less frame with only a small opening for a selfie camera punch. Samsung has an ultrasonic fingerprint sensor under the screen.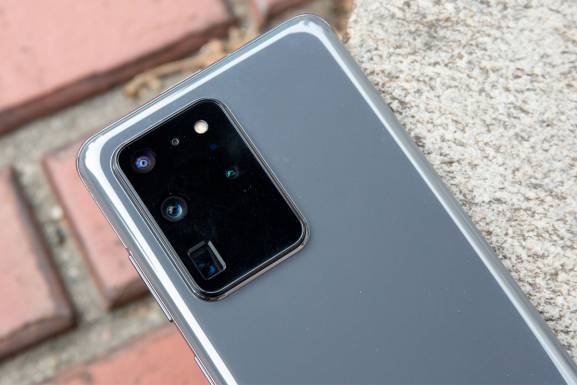 Samsung ditched the headphone jack, it flies the ability to expand storage with a microSD card, which is noteworthy because the smaller Galaxy S20 comes with one storage option: 128GB. That is extremely low for a thousand-dollar smartphone.
Samsung Galaxy S20 Specs:
Display: 6.2" Quad HD+ Dynamic AMOLED 2X
Dimensions: 151.7 x 69.1 x 7.9mm
Operating System: Android™ 10
Storage: 128GB built-in
Front Camera:
Rear Camera:
Ultra-wide: 12MP
Wide: 12MP
64MP tele
Connectivity: Wi-Fi 802.11 / Bluetooth 5.0
Processor: Exynos, SnapDragon
Weight: 163g
Battery: 4000mAh
Ports: Type-C port (USB 3.0)
What are the Good & Bad Points in Galaxy S20?
Here we are sharing some good and bad points related to Galaxy s20 that Mobile Campus Technicians have observed.
Good:
High refresh rate screen
Appreciated Battery Life
Attractive Hardware Display
Bad:
5G not meriting the cost
Cameras over smooth faces
Software updates only promised for two years
Is Samsung s20 5g enabled?
Samsung is actively pushing the addition of 5G as the key selling point for the Galaxy S20 series. However, the 5G networks are only in the embryonic phase. Just a couple of operators across the globe have deployed 5G networks, and even then, at most, their coverage is spotty. Don't be deceived by the speed of gigabit+ download you see in those random social media screenshots. Although 5G promises that kind of frequency, you're only going to get it at a specific spot near a specific form of 5G tower. Away from that location, speed is going to go down as well. The standard Galaxy S20 doesn't support mmWave 5G, so you're not allowed to get that kind of speed on it.
How do I turn on my 5g s20?
How do I turn on my 5g s20?
Go to Home screen
Swipe up to open the Apps tray
Select Settings > Connections > Mobile networks
Opt for Network mode
Choose to set:
5G/LTE/3G/2G (auto connect)
LTE/3G/2G (auto connect)
LTE/3G (auto connect) 2G only.