Once you are addicted to your iPhone, there's no turning back to androids. If it's getting problematic in some way and you don't want to hand it over for the longest time, get to your quickest iPhone X repair service in Sydney.
Apple's iPhone X also known as "iPhone 10" came out as the latest version on 3 November 2017. The fancier Face ID feature was introduced with a bang in the market.
The gorgeous OLED screen provides superior viewing angles with its vibrant colors. Moreover, its handy size makes it more practical. Besides, built-in features, huge storage space, and dual camera keep it different from the previous iPhone models.
These fantastic features make iPhone X an innovative technological backpack to assist its user in daily life tasks. We understand that every need of yours is associated with your iPhone and if its screen gets crashed, or other internal issues happen with it, nothing works. Visiting a repair service would be the best decision.
Mobile Campus provides solutions to every problem related to iPhone X. We have gathered all the certified professionals to get your iPhone repaired and fixed efficiently within no time.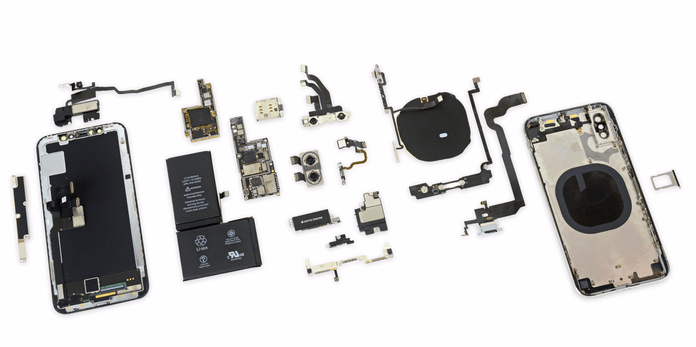 Some Boasting Features of iPhone X
iPhone X updated iOS devices to another level with its unique specs and attractive body making it more lucrative in the technological world.
It evolved itself with a unique display, camera system, and battery timing. Additionally, It came up with a constant screen appearance that replaced the typical home button fingerprint sensor.
Scroll down to explore some unique features of an impeccable iPhone X.
Display
iPhone X flaunts itself with a back glass body and space gray or silver finish. It has a beautiful rectangular shape with curved corners providing a display screen of 5.85 inches diagonally, engineered with a super Retina HD display.
Size
iPhone X is 5.65 inches tall,2.79 inches wide, and 0.30 inches deep which makes it a perfect rectangular device. It weighs around 6.14 ounces.
Dual Camera System
iPhone X is updated with a 12 MP wide-angle and telephoto lens. Its True depth Camera is oriented in a vertical position and includes an f/2.2 7- megapixel front camera for selfies featured with Portrait mode and adjustable portrait lighting.
Its two-lensed camera is complimented with efficient 4k video shooting features giving out DSLR quality videos.
Face ID feature
True depth camera provides iPhone X its unique face ID feature that helps you unlock the screen just by looking at the screen. It has replaced the specific home button gracefully.
A slight change in the face is no issue for this face recognition feature. However, a Passcode is used alternatively if it does not identify your facial appearance due to a mask or some significant facial changes.
A11 Bionic Chip
iPhone X has the most advanced A11 Bionic chip with a six-core CPU which makes it 70% faster than the previously launched devices. It was the most efficient and fastest chip back in 2017.
Storage Space
iPhone X had enough storage space for 256GB and 64 GB supporting 3GB RAM.
Built In Screen Recording
It has an advanced built-in recording tool which is just a click away in your toolbar. Select the screen recording option in the control center, and it starts recording the screen after five seconds.
Dust & Water Resistant
iPhone X is completely resistant to dust but partially resistant to water. That means it's not waterproof. Plunging in water for hours would damage its features. However, water resistance capability lasts for 30 minutes, if it's plunged into one meter of water.
Generous Battery Time
Apple Engineers equipped it with an efficient battery lasting up to 17 hours. However, background Apps like Facebook and Instagram can drain the battery faster.
Mobile Campus- iPhone X Repair Service in Sydney
If you are facing any problem with your iPhone X, you just have to visit our repair shop in Sydney.
We cater to all the iPhone Users living in Sydney by repairing every part of the iPhone X. It could be battery replacement, charging port repair, motherboard repair, water damage repair, or an instant Screen replacement in Sydney.
iPhone X Screen Replacement in Sydney
Whether your screen is cracked or just got unresponsive instantly, we are here to serve you with the perfectly repaired iPhone within a day in Sydney. Our team of experts does many screen replacements on the spot.
Considering the amount you have to fix your screen, it depends on your screen condition. An iPhone screen cost starts from $130 which is the most budget-friendly rate for screen replacement but we don't compromise on our services and bring your device back to function as soon as possible.
iPhone X Battery Issues
Sometimes, your device doesn't get charged efficiently or its battery drains out quicker than the other iPhones. Likewise, if your charging port gets loose and you have to hold it, our technicians replace the battery or repair the current one on the same day.
iPhone X Backglass Replacement
When your iPhone gets away from your hands and falls onto the most brutal ground, it crashes its back glass or screen. With your pounding heart, we can replace it with the perfect one in minimal time.
iPhone X Internal Damages
Motherboard malfunctioning or other water damage can impair the device internally disturbing all mobile activities. But, It's not a big deal for our technicians to repair it perfectly.
Hence, Mobile Campus is the most approachable and Pocket-friendly iPhone X repair Service in Sydney.