Samsung was launched in January of 2021 and became the best android phone of the year. While iPhone 13 was launched in September after nine months after Samsung's launch and packed more features into the new iPhone 13 design & all its models became a hit.
Though both the phones are different, they are very captivating devices. Some of you are thinking about getting one of these phones, so we'll try and help you out with this.
We spent a lot of time with both phones and found some interesting points of comparison. Apple and Samsung are old rivals but they take elegantly different approaches in most areas.
Here is the comparison between Apple iPhone 13 and Samsung S21:
| | | |
| --- | --- | --- |
| Brand & Model | Apple iPhone 13 | Samsung Galaxy S21 |
| Release Date | 14 September 2021 | 14 January 2021 |
| Weight | 174g or 6.14 oz | 169g or 5.96 oz |
| Body Build | Glass Front and Glass back (Gorilla Glass), Aluminum frame | Glass front, plastic back, Aluminum Frame |
| Colors | Starlight, midnight, Blue, Pink, Red | Phantom Gray, Phantom White, Phantom Pink |
| Battery | 3240 mAh, Li-ion, non-removable | 4000mAh, Li-ion, non-removable |
| Price | $1,349 AUD | $1,249 AUD |
Price: Apple iPhone 13 and Samsung Galaxy S21
The iPhone 13 was released on September 24, 2021. Prices are different for all models; for the 128 GB model, prices start from $799 / £799 / AU$1,349, and for the 256 GB model $899 / £879 / AU$1,519, and for 512 GB model $1099 / £1079 / AU$1,869.
The Samsung Galaxy S21 hits the shop earlier on January 29, 2021. The prices for the 128 GB model are $799 / £769 / AU$1,249, and for the 256 GB model is $849.99 / £819 / AU$1,349.
Display Compare: Apple iPhone 13 Vs Samsung 21
These days most smartphones look the same, but it is not Difficult to separate the galaxy from the iPhone. First, because it is a smaller device, and has a plastic back on Samsung and a glass back on the iPhone. The opinions are different on the glass back like they don't look nice but they are lightweight and the big galaxy has less weight than the short iPhone. Both phones use AMOLED screens with different colors and have HDR content. A big advantage of Samsung is the 120Hz non-adaptive refresh rate, while iPhone has 60Hz. The iPhone has a shiny display with 1000 nits. The iPhone has a 1170×2532 resolution, while the Samsung has a 1080×2400 resolution.
Design: iPhone 13 VS Samsung S21:
The comparison between iPhone 13 and Samsung S21 feels like the larger of the two with a screen size of 6.1 inches for the iPhone 13 and 6.2 inches on the Samsung S21. The galaxy has a kind of tapered screen, and the iPhone 13 has a flat display; so, the Samsung looks easy to handle as compared to iPhone 13.
The Samsung S21 is thicker and is more giant than iPhone 13. Samsung is 0.5 Ounce lighter than iPhone 13. Both gadgets are water-resistant but iPhone 13's Ceramic shield can easily cope with some downfalls. When we talk about the colors, iPhone 13 gives you Pink, Blue, Midnight, Starlight, and Product Red, but Samsung S21 gives Phantom Gray, Phantom White, Phantom Pink, and Phantom Violet.
Cameras: Apple VS Samsung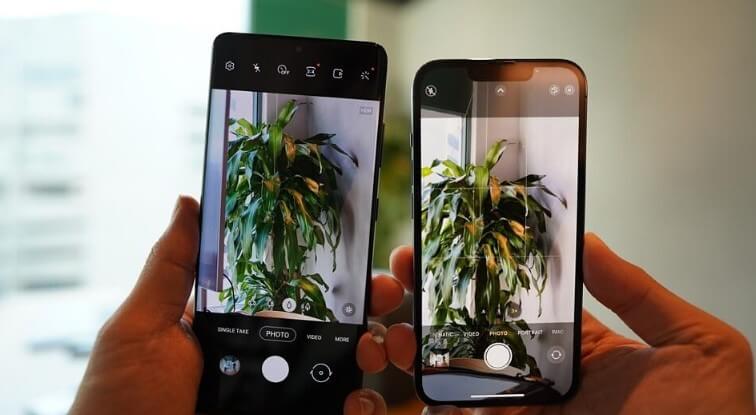 iPhone lacks a zoom-in camera;
A rapid glimpse at the back of both phones tells us that the iPhone has only two cameras, while the galaxy has three cameras, and the 3rd one is a telephoto zoom lens. Both cameras come up with party traits. The iPhone 13 launches some photographic styles, which permits you to change the tone of your pictures. iPhone 13 has a 12-megapixel camera but Samsung S21 has 108-megapixel primary camera, with a 10-megapixel telephoto camera.
The telephoto pictures are better from Samsung S21, which is not surprising considering it has a dedicated telephoto camera. One thing that the Galaxy S21 doesn't have is the iPhone 13's advanced sensor-shift stabilization, so selfies look better on iPhone 13.
Battery Life: Apple iPhone 13 VS Samsung 21
Samsung has more battery life than iPhone 13. The iPhone 13 has an improved battery life but how can it compare with the Galaxy which has a much larger battery. Firstly, here are the exact battery sizes, iPhone has a 3,227 mAh battery while Galaxy has 4,500 mAh. Note that iOS controls the battery very differently. So, just because the iPhone 13 is significantly smaller means nothing. Apple made a big declaration about iPhone 13's stamina, stating that it lasts 2.5 hours longer than iPhone 12. When it comes to galaxy S21, we saw that it lasts a whole day on a single charge. For recharging Samsung has a slight edge, with a 25W wired charging pot, compared to the iPhone 13's 20W. for wireless charging, both phones have the same speed, they use 15W charges. In conclusion, the Samsung galaxy has better battery performance than the iPhone 13.
Audio Quality: iPhone 13 VS Samsung S21
The iPhone has more impressive audio quality than Samsung. But here is the first thing to note down that these phones don't offer a 3.5mm headphone jack. They just offer a set of stereo speakers and these speakers are good on both of the phones, but not the best in the market. You'll get some bass from both the smartphones and the vocals become clear.
Both the iPhone and Galaxy have a dual speaker with a main, bottom-firing, and secondary speaker, inserted in the earpiece, but still, there is a difference in audio quality. Playing back music on the galaxy gives decent audio quality but is not impressive, while iPhone back music sounds impressive with a bass.
Performance: Apple iPhone 13 VS Samsung S21
Where the technology has gone so far, both the phones show their unique perspectives. But the iPhone is faster all around. The Galaxy S21 is fueled by the Snapdragon 888 or Exynos 2100, depending on where you bought it. It comes with LPDDR5 RAM and UFS 3.1 flash storage. The iPhone 13, on the other hand, comes with Apple's beastly Apple A15 Bionic chip, and NVMe storage. Both phones perform well. Both phones are extraordinarily quick. Though the iPhone 13 has top graphical settings still you can run the most challenging games on the top. They can operate regular, everyday tasks very easily. These two phones also could play any game with ease that is on Apple's and Google's app stores.
Software Comparison: Apple iPhone 13 VS Samsung S21
The iPhone 13 has the best-enhanced notifications, and renovated map apps can share media through Facetime, it also gives the friendly experience that Apple lovers expected. iPhone 13 runs on the iOS 15 software. This software carries a Focus mode and this software also contains text-in images features. The S21 runs on the Android 11 and gives more features and a great level of customization.
Conclusion:
Both the devices have their best features and are difficult to choose a winner. If you want a phone with a beautiful display, great performance and larger battery life, you could choose the Samsung Galaxy S21. But if you want a phone with better cameras and security features, then go for the iPhone 13.
iPhone 13 VS Samsung S21 Repair Services at Mobile Campus
Our repair services included phone screen repair, battery replacement, charging port repair, buttons repair, water damage repair, and data recovery with high-quality parts. We usually complete screen repairs and replacements within a day at Mobile Campus in Sydney. We are happy to discuss your situation with us and find a solution for you. Our company aims to provide the best services as soon as possible.