With the release of the Samsung Galaxy A42 5G in 2020, Samsung is carrying on its legacy of manufacturing strong, high-quality smartphones. It is a mid-range phone with a fair price and lots of well-liked features! Launched in 2020, at the same time as the Galaxy A12, the Samsung Galaxy A42 5G is currently accessible everywhere. If you are looking to buy this phone but are confused about whether to buy this or not? This article is very helpful for you.
Let's talk about the Features of the Samsung Galaxy A42 5G
The Samsung Galaxy A42 5G is a smartphone with the most recent technology. You may quickly connect to it and take advantage of greater connections online because it is optimized for use on the 5G network! Additionally, the Android 10 operating system comes with a unique One UI 2.5 software overlay that will make using your phone even simpler than before! 
With simple visuals and content at your fingertips, One UI Core makes it easy for you to concentrate on what's important to you. Clarity is never a concern when using your phone thanks to Night Mode, which provides a comfortable viewing experience in low light.
The Galaxy A42 5G is a little bit heavier than earlier models because of the larger battery (5,000mAh). Although, when compared to other smartphones of the same size, this one is still among the lightest on the market at 190 grams!
Does the Samsung A42 5G have a headphone jack?
This phone has a 3.5mm headphone jack connector, which allows you to charge your device and listen to music simultaneously. If traditional headphones or earphones are preferred, the Galaxy A42 5G also has Bluetooth functionality. A radio antenna is included on the headphone connector, allowing for greater enjoyment than ever during lengthy travels from work to home.
With the Galaxy A42 5G, parents can keep an eye on their kids' phone use and impose time restrictions. You can also view your children's past online activities, including who they're contacting via the gadget and how frequently. To ensure that all information is secure while using this function, this feature simply needs that you provide a PIN code.
The Galaxy A42 5G is a sleek, glossy phone with dimensions of 164.4mm x 75.9mm x 8.6 mm and a weight of 193 grams.
Performance
The Octa-core processor found in the Samsung Galaxy A42 5G is powerful. For quick and effective performance on the jobs you need it for, the CPU speed is 2.2GHz, 1.8GHz, and up to 6GB of RAM! This phone has adequate storage for all of your data demands, with 128GB of internal storage and a microSD card slot that supports even more space (up to 1TB )!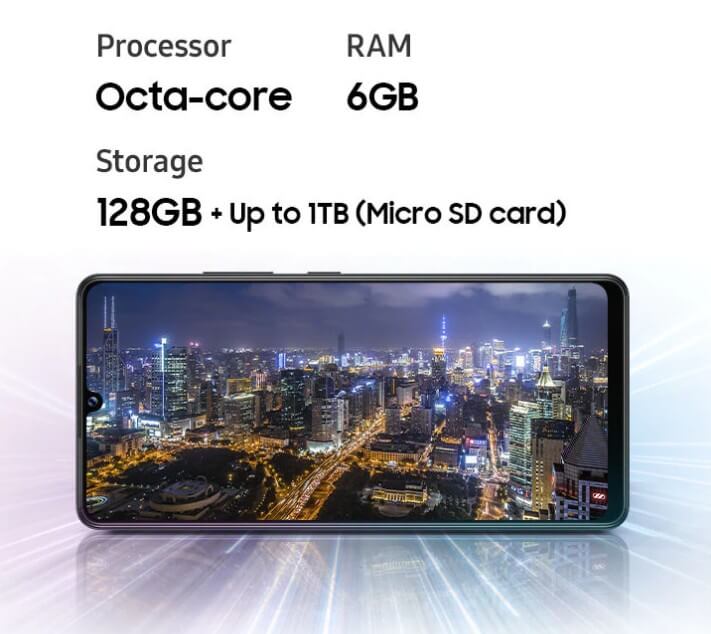 Screen
The 6.6-inch HD+ Super AMOLED display of the Samsung Galaxy A42 5G offers sharp image clarity, maximum touch usage, and minimal reflection in sunlight for easier viewing, which is rare these days. The phone also has an Infinity-U Display, so when you shoot selfies with the front camera on it, there won't be a notch visible in the photo.
Does the Samsung A42 5G have a good camera?
For making video calls and capturing selfies, the Samsung Galaxy A42 5G is a fantastic phone. The front-facing camera boasts a 20MP resolution, while the next-best phone in its class only has a 13MP resolution. As a result, you can take clearer pictures of yourself with more facial detail or when chatting with someone on FaceTime or Skype. With Live Focus accessible, it's simple to capture moments at their finest with this Android device's 8 MP ultrawide camera, as well as a 5 MP macro and depth camera, which is ideal for taking beautiful landscape photos!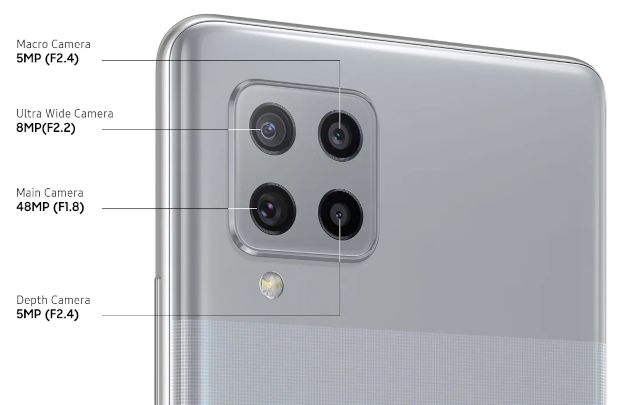 Storage
You've had the feeling of taking pictures and then having an error message appear that your phone is out of storage. No need to worry, though, as its memory and camera are perfectly suited.
Your entire digital life is stored on this phone! It boasts an enormous 128GB of internal storage to house all of your favorite pictures, videos, and songs. If that still isn't enough for you, you can simply add a Micro SD card slot to add up to 1 terabyte (about 63000 high-quality photographs).
How long does a Samsung A42 5G battery last?
The Samsung Galaxy A42 5G is a strong gadget with long battery life and the ability to resist heavy usage. The 36 hours in the title refer to the amount of time you can talk on it, but you can charge it up to two-thirds faster than with other products on the market because of its Adaptive Fast Charging capabilities.
Samsung's latest smartphone has a powerful 5000 mAh battery, so even if it may not have as much talk time per day as rivals, it will last longer for people who use their phone less often during the day.
The newest Galaxy models from Samsung have swiftly gained popularity among both users and enthusiasts of mobile devices. Adaptive charging, which can detect when your phone has reached peak charge and stop any more input so that you may use it longer between charges, is undoubtedly one of the most intriguing features! Samsung's other recent releases, like the S20/S20+ models and Note S10 series, incorporated this feature.
Conclusion
The new Samsung Galaxy A42 5G has everything you need from a smartphone – including an amazing performance at lightning speed thanks to its compatibility with the 5G network while still maintaining great battery life.
Are you facing a problem with the Samsung A42 5G charger?
You can get help from the Mobile Campus technicians. Nothing could be worse than this. The gadget may not charge for a variety of reasons.
You forget to switch on the power socket.
The charging pin does not fit entirely into the mobile charging port.
The charger adapter is not working.
The charging cable has broken.
Damaged or broken charger ports.
The charging IC is burned/damaged.
Come with us today,we can fix this issue in a very less amount of time and at a very affordable price!