If you are on the mobile market, having two iPhones in your hand, and you can't make a decision? For a modern, big-screen iPhone, you are not alone to be confused about which one to purchase and debate between the iPhone X and the iPhone 8 Plus. The iPhone 8 Plus and the iPhone X might be over a couple of years old now, but both are stellar phones. The iPhone 8 and iPhone 8 Plus follow the legacy of the iPhone 6 and 7 models, including common and iconic iPhone features such as the Retina display and the Home buttons. Apple's second edition was the magnificent iPhone X, in which a lot of features have changed.
iPhone 8 Plus vs iPhone x: Size
The 8 Plus iPhone is bigger than iPhone X. However, When measured diagonally, the iPhone X has a wider panel. The iPhone 8 Plus has a 5.5-inch touchscreen and, in standard iPhone design, it is outlined by bezels: the boundaries between the screen and the iPhone's frame and the front camera is placed at the top while the Home button at the bottom.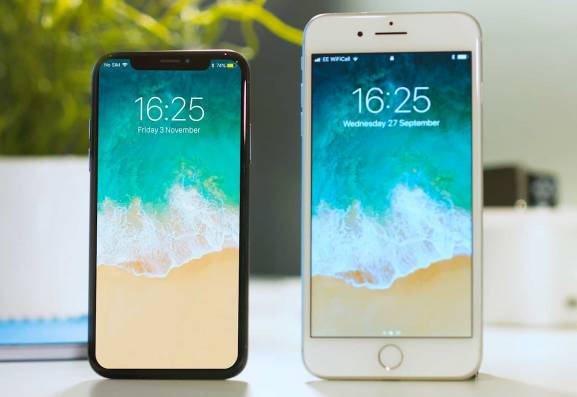 The iPhone X has a 5.8-inch display that extends from edge to edge. It does neither feature any bezels nor the Home button. The only thing that distracts from the view is the top notch that masks the TrueDepth camera setup. We can say that the iPhone X is the most beautiful handset on the market right now in terms of scale and display.
iPhone 8 Plus vs iPhone x: Display
The display is the most important difference between the iPhone 8 Plus and the iPhone X. The iPhone 8 Plus features an LCD Retina display, which you might recognize from previous iPhone versions. The Retina display is a concept Apple has created to refer to a display with a high resolution and pixel density such that people cannot distinguish the single pixels at a normal visual distance.
With a beautiful OLED panel from edge to edge, the iPhone X uses a brand new display technology. OLED gives much greater contrast than any other screen and supports HDR videos as well. The OLED monitor has such a high pixel density that it's not sufficient to label Retina – Apple refers to "Super Retina" on the current view.
iPhone 8 Plus vs iPhone x: Camera
The iPhone 8 Plus camera is an incredibly cool camera. There are two front-facing 12-megapixel cameras available: a wide-angle camera with a six-element lens, Optical Image Stability, a bigger, quicker sensor, and a second telephoto camera. Double front cameras also have a portrait mode and Portrait Lighting features, including a True Tone flash with Slow Sync. It also features a 7-megapixel FaceTime HD camera in front of you for premium selfies. The front camera also emphasizes Retina Flash, a wide range of color capture, and modern pixel technology.
The iPhone X contains a 12-megapixel dual camera in front with bigger and stronger lenses, that support deeper pixels, and a brand-new color filter. Also upheld wide-angle, telephoto cameras with digital zoom up to 10x, with dual OIS (Optical Image Stabilization) and optical zoom for incredible, crisp shots even at a distance. Portrait Mode also supports a better performance with depth/detail and low light. All filters and modes that persist for an iPhone camera include Panorama, Slo-Mo, and 4K video can be experienced. Apple has created a TrueDepth front-facing camera to provide biometric protection for Face ID, which also supports selfies at the next level. You can bet on the iPhone X the best if you are a selfie lover.
iPhone 8 Plus vs iPhone X: Battery
If your number one priority is long battery life, the iPhone 8 Plus battery is marginally bigger and allows you a bit more time to stream videos and browse the internet.
Both of the mobile phones are upheld with wireless charging, which is a significant bonus. Both of them also support fast charging.
iPhone 8 Plus: Up to 21 hours talk time, 13 hours internet use, 14 hours video streaming, 60 hours audio playback
iPhone X: Up to 21 hours talk time, 12 hours internet use, 13 hours video streaming, 60 hours audio playback